Energy Efficient Lighting Solutions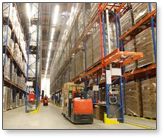 We have the expertise to evaluate any facility and determine if there is substantial energy savings that can be achieved related to Lighting. We have several hardware and software based solutions as well as fixtures, lamps, retrofit kits, etc. Depending on the level of sophistication of the lighting system desired by our customers, we can provide a solution that is very basic up to the most cutting edge solutions available in the market. Whatever our customers desire, we have the expertise to help deliver significant energy and maintenance savings related to lighting systems.
           

In some cases, our customers reduce their lighting costs by as much as 50% or more. Our solutions not only save our customers energy; they also provide improved lighting conditions. These projects have very attractive payback time frames, which usually average 18 to 36 months prior to any rebates. With rebate dollars factored into the equation, the payback time frames become even better. 

Based on our experience, we have found that many facilities waste significant amounts of energy related to lighting for a variety of reasons. Our approach is to evaluate facilities and offer solutions that meet our customer's financial and technical needs. With lighting representing up to 40% of the overall annual power cost for certain buildings, the savings that can be achieved can have a major impact on the bottom line.  Some of the efficient lighting technologies that we employ are:
Lighting Retrofits 
Lighting Circuit Modules (LCM) 
Hi Lumen Fluorescent Tubes & Lamps
LED Retrofits
Induction lamps and fixtures
Daylight Harvesting… Sensors, Window Film, etc.
Active Daylighting Technology
Solar lighting